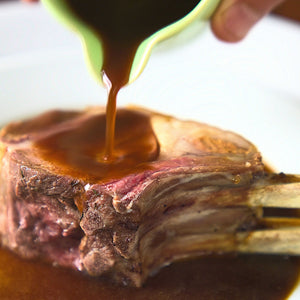 One of the kind lamb sauce created with its own lamb juice and enhanced with fine herbs

Packaging: Cooked in sous vide (vacuum) pouch, pasteurised & frozen
Reheating (best to thaw prior reheating)
*Time and temperature may vary according equipment
Bain Marie / Water bather: with pouch, 85°C in simmering water, 15 minutes
Stove: Without pouch, medium heat, 5 minutes (Best result)
Microwave: Without pouch, 800W, 3 minutes, bring out to stir then heat up another 1 minute
Ingredients: Lamb Jus and Provencal herbs *Brown stock, *tomato sauce, onion, soy sauce, butter, , green pepper cornflour, carrot, onion, celery, seasonings, sugar caramel. *Brown sauce: Maltodextrin, starch, salt, rice, flour, seasoning, caramel, sugar, yeast extract, onion powder, aroma, coloring food (apple, hibiscus), thickening agent xanthan, spices, citric acid

Servings: 2-4  persons

Weight: 150 ml
Store: Frozen at -12°C to -18℃, best to thaw 24 hours prior reheating
Shelf life: 1 year from production day
________________________________________________________________
Manufactured on equipment that also processes:Milk, eggs, fish, crustaceans, tree nuts, sulfur dioxide, peanuts, wheat, soybean, mollusks, celery, mustard, sesame, lupin.
_________________________________________________________________
*Photos are for illustration only. Garnishes, decoration, tableware are not included
_________________________________________________________________
Gourmet shop online provides French traditional cuisine (fine dining, brasserie, bistro and cafe style) prepared by Chef Julien from Le Saint Julien Restaurant Singapore.
Collection of Ready To Eat & Ready Meal and his latest brand for home cooking DE CHEF JULIEN to enjoy at home, office, BBQ and yachting.
Chef / Chevalier Julien Bompard is a French native awarded chef with 35 years of experience with Michelin star chefs, luxury 5 stars hotels, private restaurants, catering and food retail experiences.
You can follow him on youtube or instagram: @Chefjulienbompard